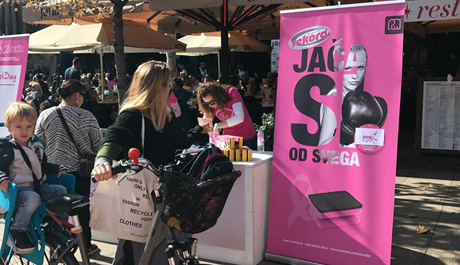 October is a month devoted to raising public awareness of breast cancer and the opportunity to emphasize the importance of preventing and early breast cancer detection and stressing the importance of timely care of our health and helping those who have already suffered.
With this aim, Rekord - Tim d.o.o. released a new collection of its products, all in pink, and on Saturday 14.10.2017. at the Cvjetni trg in Zagreb held humanitarian sales. The total sales revenue was donated to the Association P.I.N.K. life - A look from a new angle that organizes this event under the name "Preserve the Healthy Breast" in cooperation with Croatian Doctors Chamber and Adriamedia.
The campaign's goal is to raise awareness of the importance of adopting healthy living habits and regular screening and self examination.
This way, once again, we would like to thank everyone who came and supported the campaign in this way!